More info
If you jump from the spark when connecting your high voltage Lipo battery to the ESC of your RC helicopter. If you are tired of seeing your connectors destroyed over time because of this lightning, then the AMASS AS150 7mm anti spark connectors are for you !

The AMASS AS150 range of sockets offers a connector equipped with an effective spark prevention system, intended for use with high voltage installations (6 cells or more). These connectors are certainly the most advanced on the R/C market: with a continuous current of 150A and a maximum current of 250A (during 15sec), this product has the highest capacity among all existing RC connectors.

The connector is screwed to its black or red Polyamide insulation. It is therefore reusable and designed for a lifespan of at least 1000 cycles.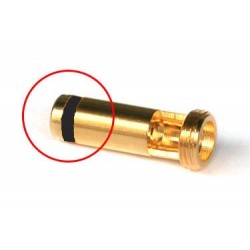 Specifications:

Manufacturer: AMASS
Connector type: DC plug - AS150 Anti spark Male red x1
Electrical assembly: soldering
Contact: Gold plated
Operating temperature: -20 to +120°C
Max voltage: 500 Volt
Max current: 150A
Cable section: 6AWG